Chromium-doped Alumina, Al203:Cr3+
BETSA®
has provided the High pressure community with ruby balls for in situ pressure measurement for over 20 years.
BETSA® ruby balls sample showing their perfect spherical shape and their wide size distribution from 3 to 50μm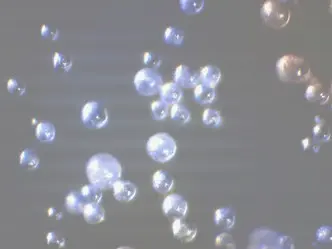 The chromium doping of 3300ppm
is constant and optimal for obtaining the highest R1 line intensity
so as to be able to measure the highest possible pressures for a given laser wavelength.
Corundum,
Chromium-doped Alumina
Typically, BETSA® ruby ball allow to measure pressures
as high as 90 GPa using 532 nm laser at 10mW,
up to 120 GPa using 405 nm laser at 50mW.

BETSA®
delivers its ruby balls on a holder that makes it safe easy to carry, to observe them using a
microscope and to pick up individual balls so as to place them inside a DAC.
The weight of 10mg we propose is ideal for not saturating this holder and make it convenient. This weight of 10mg
corresponds to several thousand balls; that is a single holder have the ruby balls needed by his high pressure
laboratory for a many years.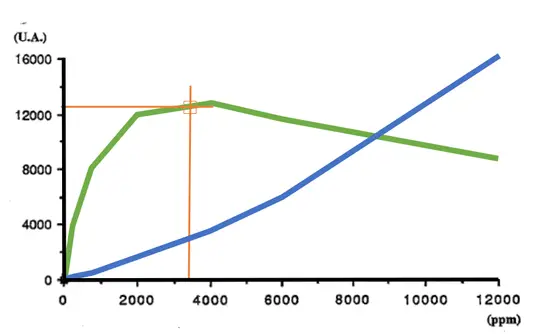 Ruby R1 (694nm)
and
R2 (774nm)
fluorescence lines intensities as a function of Cr3+ ions doping
The best yield is obtained for a
3300 ppm
doping, which is the doping of the
BETSA®
ruby balls.
Their sphericity arises from their preparation method: molten doped alumina is pushed through a jet so as
small droplets form and solidify while "in flight". This method, unlike crushing large pieces of ruby provide single
crystalline spheres with little internal stress, void of dislocations and featuring a smooth non scattering surface. To
remove any remaining internal stress, we heat treat our ruby balls several times. This way our ruby balls provide
clear and narrow R1 and R2 fluorescence lines (the R1 line FWHM is typically 7 nm).
The chromium doping of 3300ppm is constant and optimal for obtaining the highest R1 line intensity so as to be able to measure the highest possible pressures for a given laser wavelength / power